Sunsets – Winter 2015 – Part 3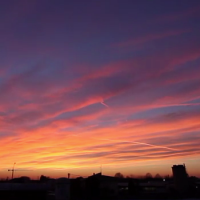 Sunsets – The series
Is this the last part of the series about sunsets? Well, you got an introduction and a first video where sky was clear from clouds, then a second video where clouds produced great light games, and this is the third and …yes, third and last video for this "Winter 2015 sunsets" series. Thanks for watching all the episodes.
Equipment: Canon EOS 1100D, Canon EF-S 10-18mm f/4.5-5.6 IS STM to capture the entire sky during sunset and a tripod. I suggest to point at an open area where a great portion of sky is visible, but even introducing silhouettes, buildings or other details in the scene could generate a nice effect! Clear sky shows different shades of colors while clouds introduce a 3D good-looking view.
I want to share emotions with you. Have fun while watching these amazing sunsets!
Like and share the video and subscribe to my YouTube channel, so you will discover next videos. Give a look at my portfolio or join me on Flickr.
If you enjoy it, please share it on social networks to show it to your friends, it will help me continuing with new ideas to share with you. Let me know in the comments what you think about this video!